Written by: Jay H.
Gone are the days of relying on websites like TripAdvisor for business recommendations. Now, your search starts and stops with Google, which provides excellent business recommendations based on your search right on the results page. If your business is not listed, you're shooting yourself in the foot. Here's why you need to register your small business with Google My Business.
Benefits of Google My Business
Billions of people worldwide use Google every day. Whether that's for looking up the answer to a question, finding a recipe, or searching for nearby businesses, Google does it all. If you run a pizza shop and want to come up when someone searches pizza near me, you need to register your business with Google My Business.
So, if you want to come up here:
Or here:

And here:

You'll need to register with Google My Business.
How To Create A GMB Listing
To make a Google My Business listing, go to the create page and click Add your business to Google. Provide as much information as you can; Google prefers fully-fleshed listings, and minimum effort listings will get low rankings. The steps are straightforward; however, there are several special considerations to consider as you fill out your listing.
1. Include your keywords in your business name
Including your main keyword in your business name can drastically impact your rankings. For example, we at Design2Web IT include IT in our business name. If you run a pizza shop, you'll want to make sure pizza is in your business name.

Be careful not to overdo it, though, and don't stuff your business name with keywords. You'll be penalized by Google, and it will look unprofessional.
2. Optimize your description
When you're prompted to write a description for your business, be sure to put some thought and effort into what you write. Google once said you should think about the words customers would type to find your business and include them in your description. However, once again, do not go overboard. Simply writing keywords for the sake of having them will get you penalized.
You want to include your unique selling propositions (USP), which essentially means what makes you different from your competitors. Maybe your pizza is quick and cheap, or perhaps it uses the highest-quality ingredients for a premium pie. You'll want to include whatever it is that makes you different.
Next, you'll once again want to include your keywords and the products or services you sell. Using the pizza shop example, we could come up with a description starting like this:
[Business Name] is an Abbotsford pizza parlour serving cheap and delicious pizza slices for eat-in, takeout, or delivery.
This description clearly states who you are and what you offer, includes important keywords, and says your USP (cheap and delicious).
3. Create a website
If your business does not have a website, it's essential to create one. Your website is your digital storefront, and without it, you'll miss out on countless potential customers.
Luckily, you can create a free website through Google My Business based on the information you provide.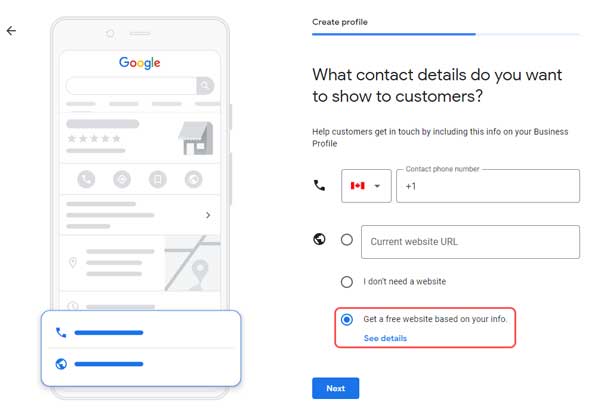 You'll later be able to edit this website through your GMB account. It's easy to do and requires no coding knowledge at all.
While the free Google website builder isn't as powerful as building your own website, it is still a massive upgrade for business owners with no website at all. Be sure to add your logo, contact information, description, and any relevant information potential customers may need on the website.
If you're interested in a custom website for your business, Design2Web IT offers custom web design services to give your business a competitive edge. Please contact us today to learn more.
Verify Your GMB listing
To unlock more features for your Google My Business listing, you'll need to verify your listing and prove that the business belongs to you. You can verify your listing by mail, email, phone, instant verification, or bulk verification.
Verification Issues & Resolutions
When verifying your listing, you may find that someone else has already claimed your business. This could be for many reasons, like employees, an agency you hired, or yourself from a previous email.
If you don't recognize the email that claimed the listing, hit Request Access, then complete the form. The current owner will receive an email requesting access and can grant ownership to you within seven days. If they reject the request, you can reclaim your business through mail verification.
Optimize Your Listing
Once you've verified your business, you gain access to hundreds of features to make your listing more attractive. Let's look at some of them.
Photos and Videos
Visual content is essential to make your business stand out. Potential consumers want to see more than just text, so enhance your listing with high-quality photos and videos of your business, products, etc.
Extra Information
You can also add a multitude of extra information to your GMB listing. For example, you can add that you offer free Wi-Fi, provide takeout and delivery, your menu, what types of payment you accept, and much more. There are many niche-specific options that you'll likely want to add to enrich your listing. Explore your options and add the relevant fields to your GMB listing.
You can also add business-specific features for extra clicks. For instance, hotels can add a Check Availability button to their listing, restaurants can feature an Order Online button, and much more. Utilize all relevant to your business to make the most out of your listing.
---
Improve Your Firm's Online Strategy
Google My Business is a vital part of any business' search engine optimization strategy. If your company does not have a Google My Business listing, or if your listing includes only the bare minimum, change that right now.
Need help marketing your business in today's competitive digital environment? Our internet marketing services put you in front of your clientele and get you more sales. Contact us today to learn more.

Comments are closed.